I sure love jumping in bandwagons.
Anyway, I've been toying with this idea since some time ago,and today finally decided to do it. I'm not very good at this liveblogging stuff so it'll probably suck,but hey,at least is free.
Anyway,let's start with a bit of backstory.
Chargeman Ken is a 1974 anime made by the company Knack. In it, our hero Ken uses his Chargeman-powers-that-no-one-bothers-to-explain-where-they-came-from against the Jural aliens. He is also an enormous asshole
Anyway, the majority of the episodes are in Japanese,with only 3 subtitled,but since the plotlines are so simple I don't think it will be a huge problem.
Well,let's start with Episode 1 "Danger!! The Children's Space Station!"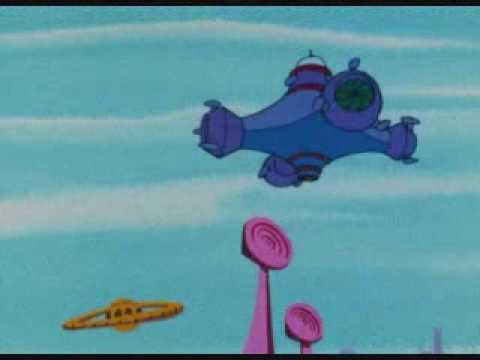 So we start in some kind of submarine base,where Mao,the lider of the Jurals (who's actually a pretty cool guy) is ordering his soldiers to kidnap ALL THE CHILDREN IN THE WORLD.
Gee Mao,isn't that a bit overboard? You should start with something smaller,like kidnap all the children in Andorra or something.
Well,he wants to kidnap the children to use them as hostages. It's not a really complicated plan,isn't it? And then his eyes flash for some reason
After some beautiful scenary pictures,we finally see our hero
Accompanied by his annoying sister Caron,who won't do anything in this anime except being kidnapped and go insane
And this fucking thing, whose only purpose is being
annoying
comic relief. He's named Barican, but who cares?
So they go to some kind of amusement park where other kids are having fun ( though is hard to tell,since you can't even hear laughter)
Ken is in a spaceship with his buddies,and since he's an asshole decides to do some stunts with it.
After nearly killing Barican and Caron, Ken looks at something with a terrified expression.
It's the Jurals,who are kidnapping the children at the park!
And the see the first of a series of very,very,very,very reused transformation sequences. Also,we get to hear the Chargeman Ken theme song,which is enough of a reason to watch this anime
Ken jumps into the Sky Drop, his spaceship with a stupid rotating ring and lands it without actually using it for shit. He's that cool
Apparently,Ken has the ability of rolling while floating some centimeters up the ground. It's not a really useful power,but at least is cool to see.
And he just start shooting the aliens,who don't oppose any kind of resistance... Oh wait there's one in a spaceship above! Maybe he can.... oh no,Ken's amazing manouvers (known as just flying around the spaceship are distracting him!
After dicking around for a bit, Ken finally shoots him and blows him up after a suspenseful pause.
And the episode ends with everyone laughing at Barican's stupidity and no word on the fate of the kidnapped children
Well,that's it. I'll do episode two tomorrow or later today or whatever